Is your quality of life being affected by pain, caused by an injury or chronic condition?Painkillers are a temporary solution and surgery can seem a rather drastic choice, so why not give Diamagnetic Therapy a try?
Diamagnetic Therapy utilises an energy transfer system to accelerate molecules within the cellular matrix through a high intensity magnetic pulse. Stimulation occurs at a cellular level, allowing deeper penetration than traditional electrical therapy which may aggravate already inflammed tissue. A study conducted in Europe has also shown that Diamagnetic Therapy has found to be effective for patients suffering from osteoarthritis.
Conveniently located just off the Bukit Rimau exit of the KESAS highway, close to a major private hospital, Diamagnetic Physio Centre is equipped with 2 state of the art CTU-Mega 18 Diamagnetic Devices, as well as several full time physiotherapists. For more information on how to manage your pain with our revolutionary solution, please call 03-5525 4343.
Diamagnetic Physio Centre core business revolves around four areas:
Physiotherapy Assessment
and Management
Pain Management with CTU
18 Diamagnetic Pump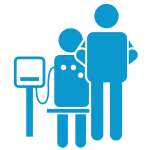 Exercise Physiology and
Rehabilitation Services
Visit us at our headquarters for
free consulting hour.
Mon – Sat         9:00am – 9:00pm
Sunday            9:00am – 6:00pm
Visit us at our headquarters for
free consulting hour.
Mon – Sat         9:00am – 9:00pm
Sunday            9:00am – 6:00pm